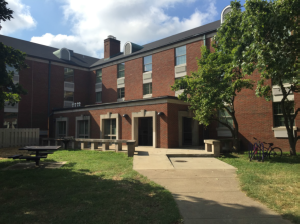 The Henderson County, Kentucky Christadelphian Ecclesia would like to invite you to join us for a spiritually uplifting week of bible study and fellowship with those of like precious faith.
Lord willing, the 2020 bible school will again be held on the campus of Kentucky Wesleyan College in Owensboro, KY.  The school will begin with the Saturday evening meal June 27th, and conclude with the noon meal Friday July 3rd.
Registration should be submitted by mail.  There will be no registrations by phone or email, but confirmations may be by email.  A deposit of $25.00 per person for ages 13 and over is required up to a maximum of $100.00 per family.  Deposits cannot be refunded after May 1st except due to an emergency.  Your registration will be acknowledged upon receipt.  Please be sure to indicate each child's birthday (Month, Day, Year).  This will allow us to plan classes accordingly.
There is no online registration option at this time.  Please mail your completed registration form(s) and security deposit to:
Bro. Jim & Sis. Thelma Haagen
1057 Highway 259 North
Hardinsburg, KY 40143-4501
Phone (270)756-5733
Rates:  (Note: these special rates for young people are a result of a special donation to the
bible school.  We hope that it aids families and young adults who wish to attend.)
0 through 3 years          $0.00
4 through 11 years        $25.00
12 through 20 years    $85.00
21 and up                     $210.00
You can download our 2020 registration forms by going to the drop down tab and selecting either the PDF or JPEG version of your choice.
If you have any questions, please contact us.